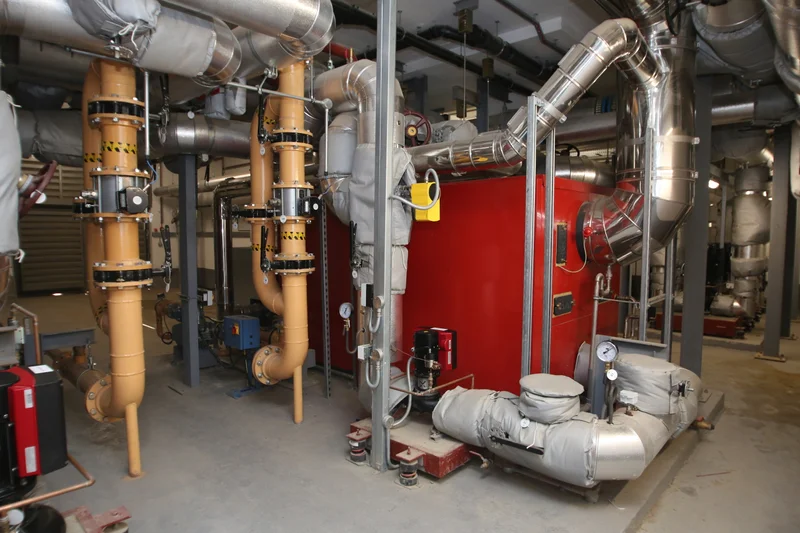 Energy centres are bespoke plant rooms designed to address both the ESCO and planning requirements. They incorporate a variety of traditional and sustainable generation technologies, integrated into one package.
The increasing popularity of centralised boiler plants with HIUs per dwelling is due to the fact that they are more efficient and gain BREEAM points. However as the gas boilers are being phased out, we are much more regularly installing Ground Sourced Heat Pumps and Air Sourced Heat Pumps to give a more sustainable option.
We work closely offering technical expertise and experience to assist the design team in developing the most sustainable and optimised solutions. This includes consideration of maintenance requirements post-installation.
Planning requirements for renewable, low carbon and decentralised energy supply are increasingly demanding, and this is exemplified by the London Plan, and strengthened by boroughs nationally adopting similar policies.
Heat network benefits:
Lowered cost of energy generation.
Increasing fuel efficiency through use of CHP in certain circumstances
Significant reduction of CO2 emissions through optimisation of heat supply and using heat recovery technology.
Using renewable heat efficiently and providing opportunities for the deployment of renewable technologies that otherwise wouldn't be viable.
Improving security and predictability of energy supply.
Benefit from our advice in installing energy centres.
Our experience of installing sophisticated energy centres in partnership with industry-leading developers sets us apart from many other contractors. We have developed a body of expertise, working with developers to improve and enhance the integration of existing technologies. We install energy centres either as modular units produced off site or as a traditional on-site build. The advantage of off-site fabrication and modular build are that the installation quality is in a semi-controlled environment, allowing modular sections and skids to be tested and witnessed off site. This simultaneously saves on programme time.